AIRBRUSHING
If you've never airbrushed before, shopping for an airbrush can be very intimidating! We're going to try to answer some of the most common airbrush questions here and give you some great tips to get you started. We will also tell you why this ADC airbrush is our favorite!
airbrush parts
All of the parts for the ADC airbrush are replaceable! You'll understand how big that is when you drop your first fluid tip down the sink. We've been there and done that.
#2 airbrush gun
The ADC gun is stainless steel. You can feel the difference the second you hold it. You can also invest in additional guns if you like to utilize the quick release on the hose like we do. The #2 gun is perfect for all of your regular airbrush colors and even the metallic sheens.
#3 airbrush gun
This ADC gun was designed specifically for the thicker colors like the whites. It has a larger gauge needle which allows the thicker solids in white to pass through without spitting them all over your beautiful cookie.
Tips to get you started
GET TO KNOW YOU'RE AIRBRUSH
We joke that learning to use an airbrush is like learning the clutch in a car. there is a sweet spot with the clutch just like there is with the trigger. your finger will develop muscle memory for that sweet spot just like your foot does with the clutch. remember, every airbrush is a little different. this also means learning how to take your airbrush gun apart and put it back together correctly. this is critical for when you need to clean it or trouble shoot a problem.

practice, practice, practice

It's hard to get over the fear of using the airbrush in the beginning. NO ONE wants to practice on the beautiful cookies they just spent the last 8 hours decorating. Here's our favorite beginner tip - practice on coloring book pages!!

practice your aim and your trigger control.

practice overlapping two different colors and blending them evenly.

practice airbrushing two different colors right next to each other without letting them mix.

practice not getting over spray in a section you want to keep white.

dagger strokes

PRACTICING DAGGER STROKES will help you master the trigger and hand control you need to make your airbrushing look beautiful and clean.

use our airbrushing color guide

This chart will help you build confidence choosing the right colors. Your base coat color is the color you will color your frosting to outline and flood the cookie or section you want to airbrush. The chart will then help you decide which colors will look best airbrushed on that base coat. The antiquing guide will help you decide which color is best if you want to add distressed/rustic looking edges on a cookie. Do we ever break the rules shown in this chart? YES! all the time! This chart is meant to be a starting place. The more comfortable you get with colors, the more confidence you'll have experimenting.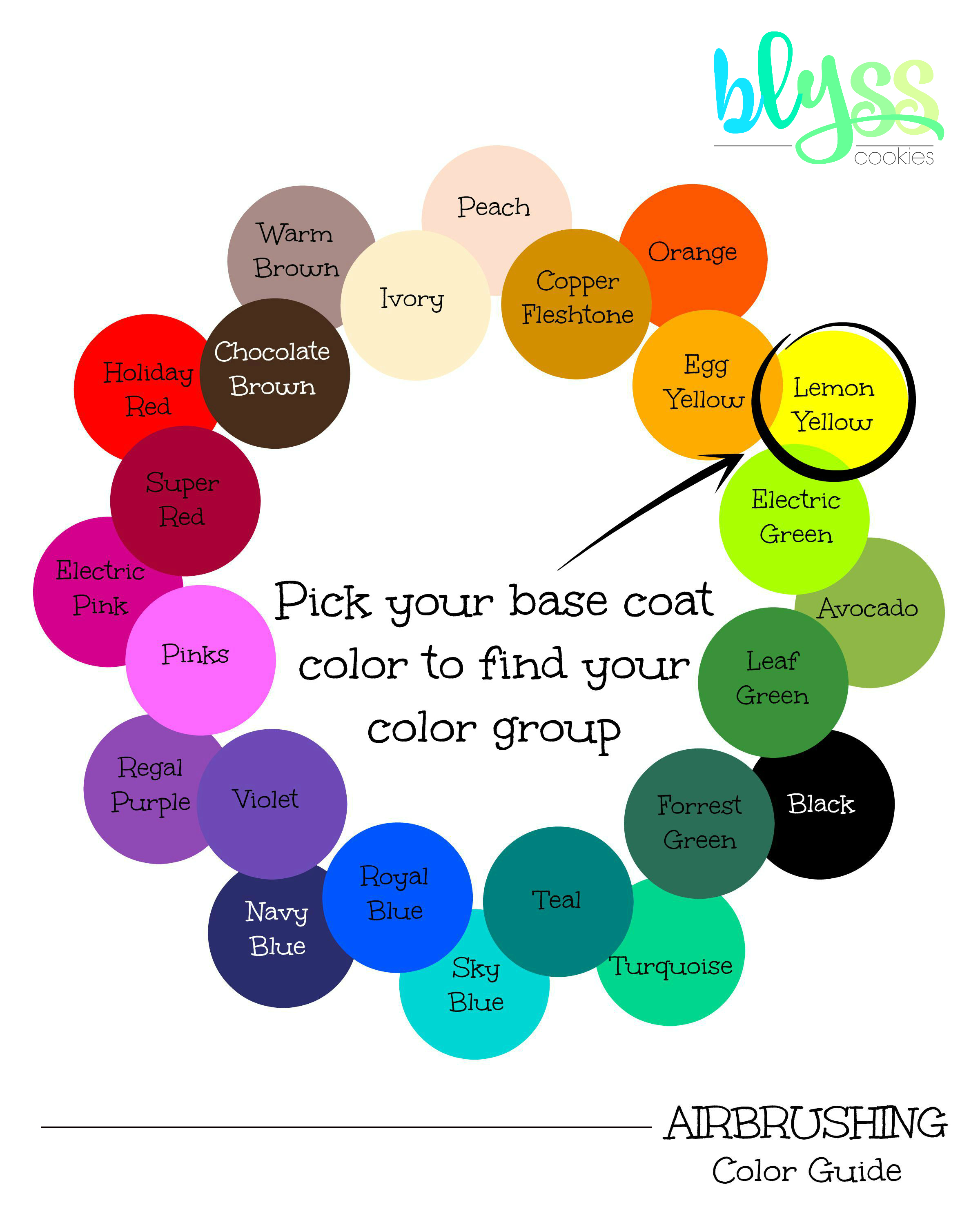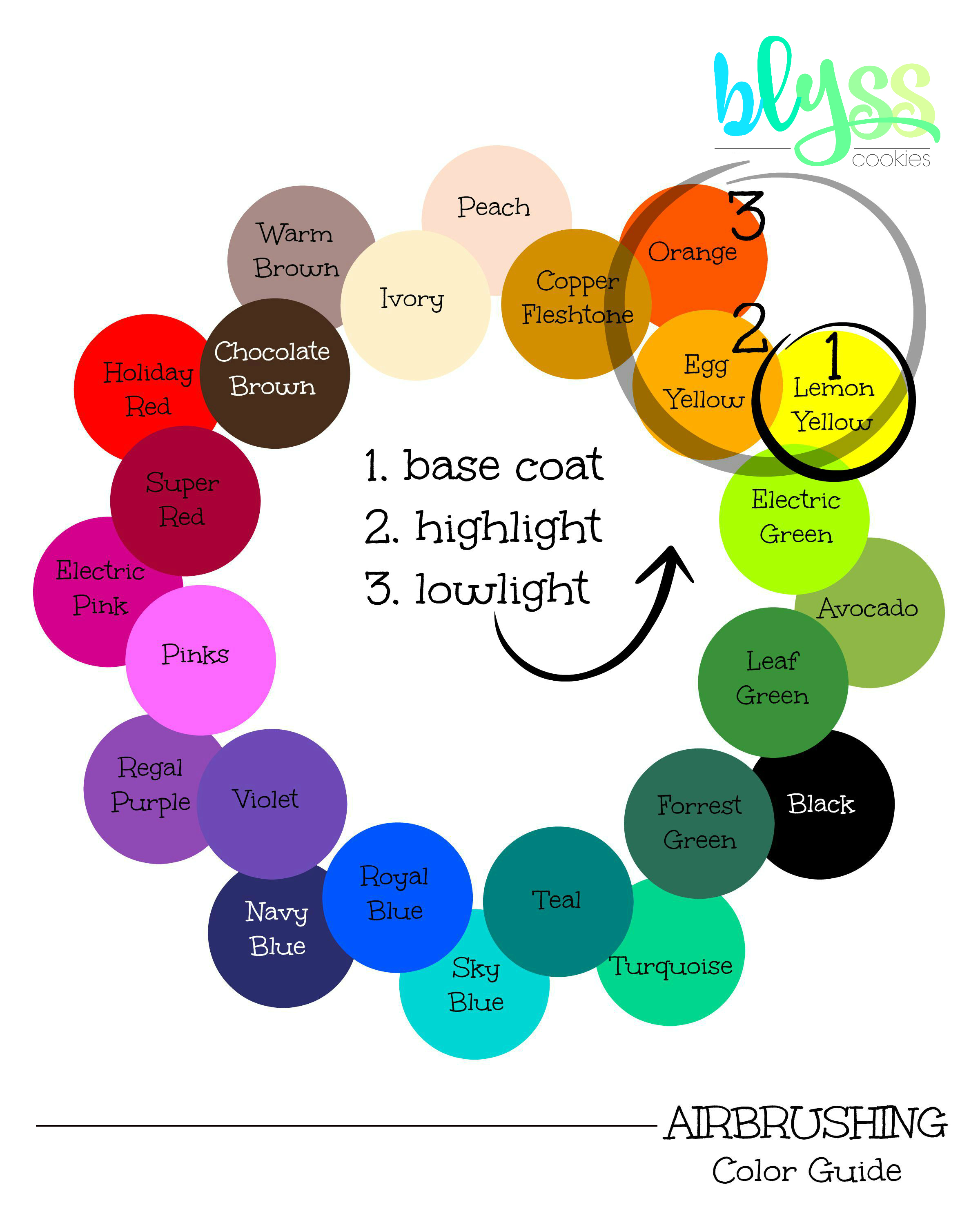 IF YOU WANT TO TAKE YOUR AIRBRUSHING SKILLS TO THE NEXT LEVEL, JOIN US FOR ONE OF OUR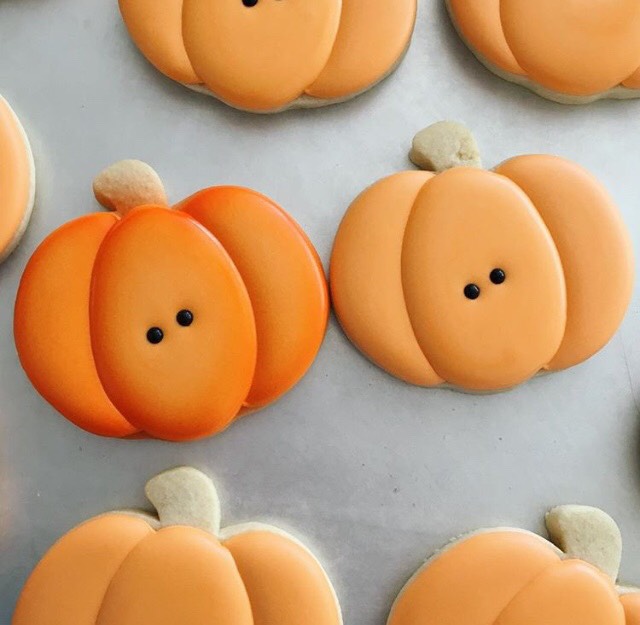 want to see the airbrush in action?
STILL HAVE QUESTIONS?
NO PROBLEM, WE'RE HERE TO HELP!